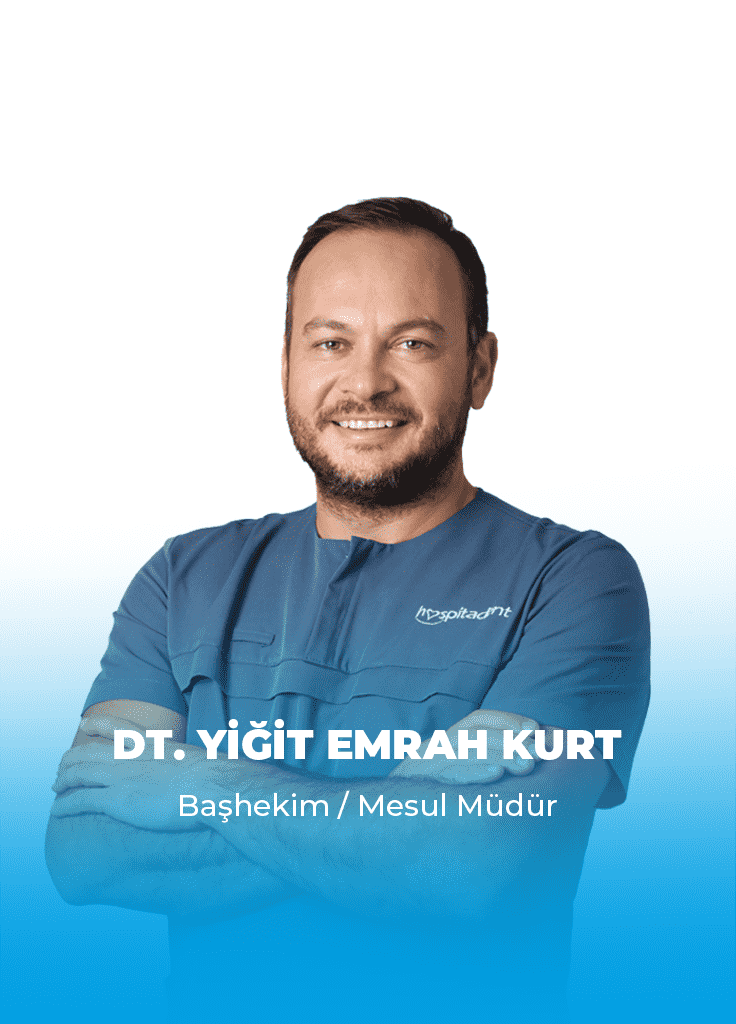 NUMBER OF TREATMENTS
Oral Diagnosis
100.000+
Implant
425+
Aesthetic Treatment
13.000+
Whitening
1.300+
Dt. Yiğit Emrah KURT
Chief Physician / Responsible Manager
Summary
Our Chief Physician, Yiğit Kurt, has been working with the Hospitadent brand since 2006. Yiğit, who has also been the chief physician of our branch since 2011, is very successful in oral diagnosis, aesthetic dentistry, prosthesis and digital dentistry treatments. He also serves as a lecturer at different universities.
Language
Turkish and English
Education
Istanbul University Faculty of Dentistry
Certificates
DSD CONCEPT HANDS-ON :DIGITAL SMILE DESIGN // 2017
DIGITAL DENTAL SYMPOSIUM // FROM PLANNING TO SIMANTATION PORCELAIN LAMINA VENEERS//2017
CURRENTS CAN CEPTS ON XIVE IMPLANT SYSTEM:SURGICAL AND RESTORATIVE APPLICATIONS// DOCTEUR:ANNE BENHAMOV//2018
OPERA: FROM ANALOG TO DIGITAL SERTIFIKA //2018
TURKISH SOCIETY OF ORAL IMPLANTOLOGY:XXIX(TH) INTERNATIONAL SCIENTIFE CONGRESS //2018
3M(SM) HEALTH CORE ACADEMY:LAMINA GULUS DESIGN//2018
3M(SM) HEALTH CORE ACADEMY: CHANGING TRUES IN PROSTHESIS MEASUREMENT APPLICATION //2018
BEAUTY & SMILE :INSTITUT UROPEEN İSAGE //2018
BURSA CHAMBER OF DENTALS: 28th ULUDAG DENTAL SYMPOSIUM//2019
HOSPITADENT ACADEMY:DENTAL PHOTOGRAPHY IN CLINICAL PRACTICE//EMİR YÜZBAŞIOĞLU //2019
HOSPITADENT ACADEMY: ARE JAW JOINT DISORDERS UNRESOLUTION?//PROF.DR.HANEFI KURT//2019
NOBEL BIOCARE:DTX SUTIDIO IMPLANT VE NOBEL GUIDE KONSEPT/DR.POWEL JASTRZEBSKI//2019
NISANTA UNIVERSITY/SOCIAL SCIENCES INSTITUTE/HEALTH MANAGEMENT MASTER DIPLOMA
A truly wonderful team.. I would like to thank Chief Physician Yiğit Kurt who made my first examination and Yusuf who made my prosthesis. Of course, I would also like to thank Eser who helped me with my implant treatment, it was a smooth experience from beginning to end..
All Our Business is
Dental