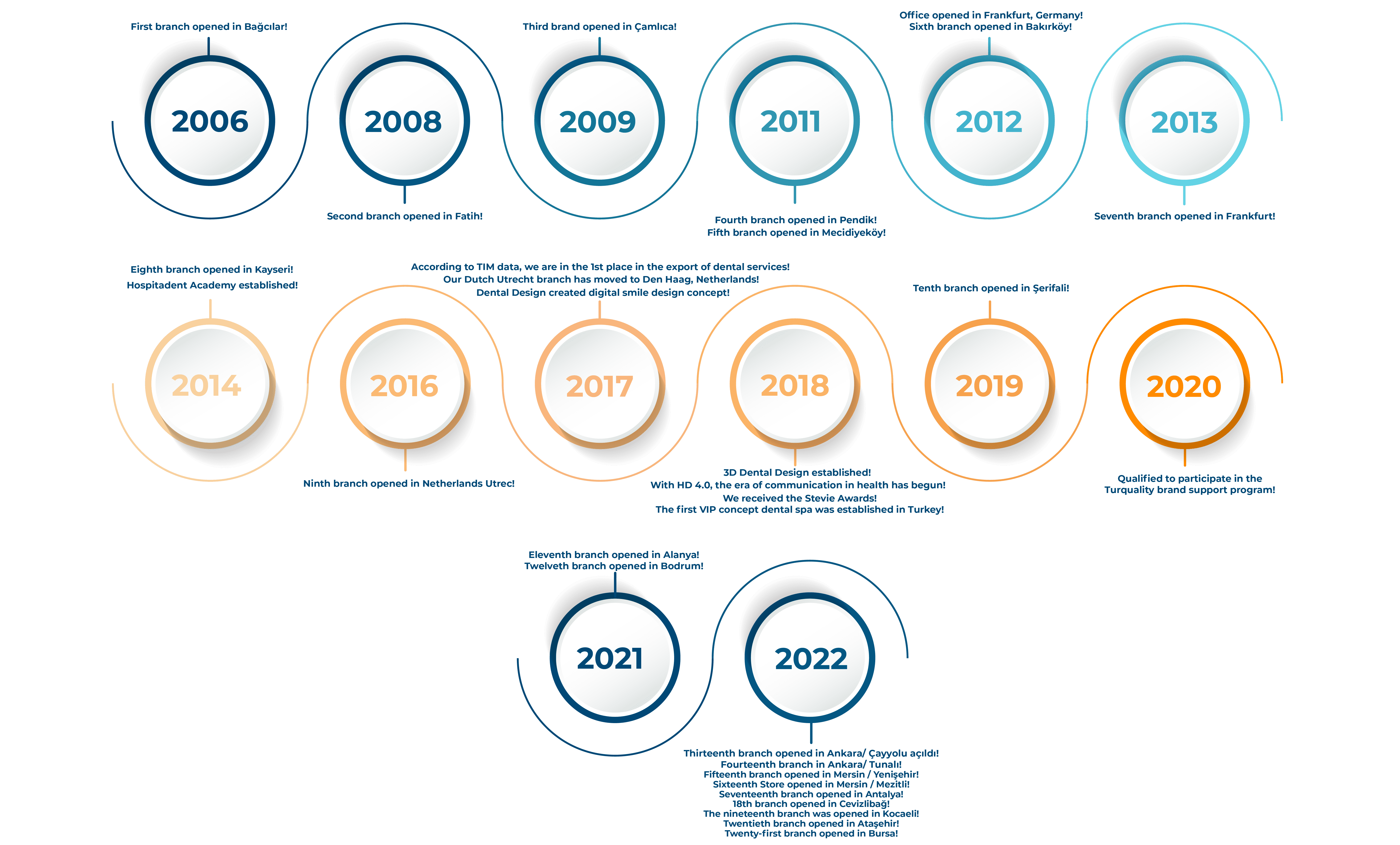 After the first center opened in Bağcılar, Hospitadent opened branches in Fatih in 2008, Çamlıca in 2009, Pendik and Mecidiyeköy in 2011, and opened its first foreign branch in Frankfurt, Germany in 2012. Then, with a new center opened in Bakırköy, the hospital group increased the number of branches, in Kayseri in 2014, in Den Haag in the Netherlands in 2015, in Şerifali in 2018, in Alanya and Bodrum in 2021 and at the beginning of 2022. On the other hand, it continues to grow with firm steps by opening two branches in Ankara. In addition to the rapidly increasing number of branches, Hospitadent Academy was established in 2008 for the professional development of specialist physicians and technical personnel and for the continuous training of technological innovations. Hospitadent is a leading name that sets standards in the health sector with its innovative projects. The hospital, which started the loyalty program called Dent Guard in 2016, created a guaranteed dental treatment system with personalized cards and advantages. Digital smile design was started in the Dental Design department, which was established in 2017. Offering superior technological infrastructure in each of its branches, Hospitadent serves its patients with an individual and long-lasting dental treatment approach.
Our Vision
To be the closest and most innovative oral and dental health brand in the world.
Our Mission
To add value to people, society and the environment with high service quality; To give confidence to each of our patients by treating them as our own relatives in an ethical, sincere and empathetic manner, to reach more people with a balanced physical growth, to follow technological and scientific developments and to apply them in a pioneering way, to make people happy by designing aesthetic smiles with smile architects.